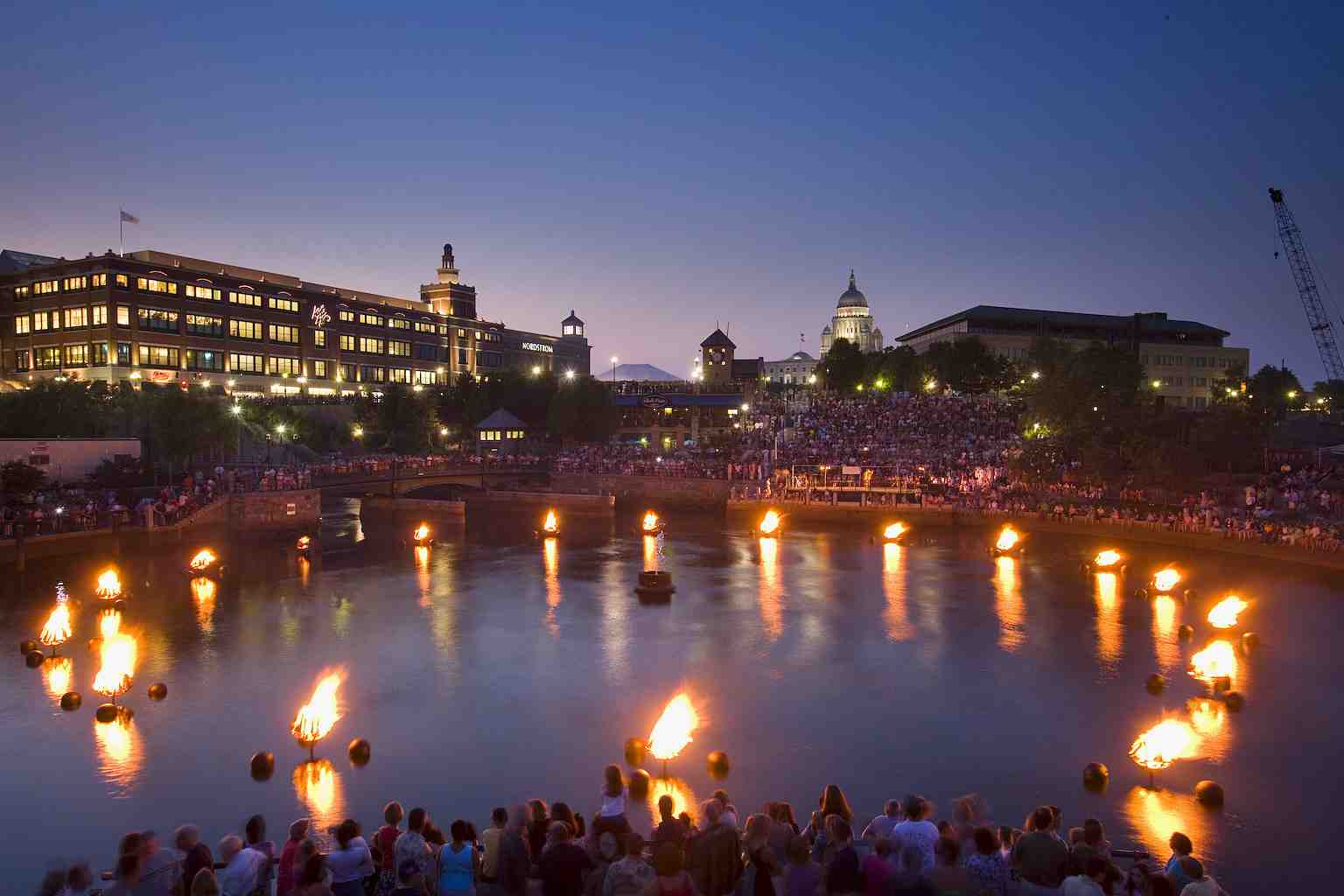 Waterfire of Providence
Located in historic Providence, Rhode Island,
Brown University
is a private Ivy League institution founded in 1764, making it the seventh oldest college in the United States. Its main campus is located on College Hill and constitutes 143 acres and 235 buildings that reflect the Georgian style of American colonial architecture. Walking across the pedestrian-friendly campus from end to end takes about fifteen minutes.

Van Wickle Gates of Brown University
The Brown community consists of vibrant diversity with students from all 50 states and more than 100 countries. Named the
#1 College in America for Happiest Students
by Princeton Review in 2007, 2010, and 2011, Brown is recognized for its unique style, global and cultural outreach, and active student community.
At the base of College Hill is the fine arts and design college, Rhode Island School of Design. Its main art museum, the RISD Museum, has the twentieth largest collection in the country. Brown and RISD share many academic and community resources and offer joint courses.

View of RISD
College Hill
is at the heart of Providence, one of the largest cities in the New England region. Situated at the mouth of the Providence River, the city encloses a small geographic region characteristic of eastern seaboard cities and includes many historic buildings. The Brown campus is within walking distance (about 10-20 minutes) to various downtown restaurants and shops, the Dunkin' Donuts Convention Center, the Providence Place (the largest indoor mall in New England), the Biltmore Hotel, and the Bank of America Skating Center. Providence combines the accessibility and friendliness of a small town with the culture and sophistication of a big city. It encompasses a thriving art community, vibrant neighborhoods, a range of cuisines from French dining to authentic Thai food, and, of course, the scenic beauty of Providence River which runs through the city.